Hey Shaqir Hussyin here, founder of Traffic Agency PRO with a somewhat "URGENT" blog post….
Would you like to discover a bullet-proof (guaranteed) unconventional way of making $10,000 per month?
If the answer is yes, then I want you to pay close attention to this post that I've written whilst staying at the Dan Pena's Guthrie Castle here in Scotland with my buddy Matt Lloyd, creator of MOBE.
And here's a big-bold promise, as you read this entire post by the time you reach the end you're going to have the confidence and clarity that you now own the secrets of making your first $10,000 per month, guaranteed and these are secrets most Internet Marketers will never know about.
After coaching thousands of entrepreneurs and being the top million dollar earner inside of MOBE & Empower Network, one of the most common questions I get is, Shaqir, your results are impressive, you've made $10 MILLION in such a few short years, but I just want to make my first $10,000 per month…
"Shaqir, If you were starting from scratch and you needed to make $10,000 per month FAST, what would you do?"
No B.S, no filler, I just want to tell you how I would go from zero to my first $10,000 per income if I had to start from zilch.
In this short, but powerful blog post; I want to give you the shocking truth.
The simple step by step plan to making your first $10,000 per month.
So the other day, I had a student come up to me. Tired, burnt out, overwhelmed and almost with a tear in his eyes; he leaned in closely and asked me what I would do I had to start from scratch.
This heart-felt, truth-telling blog post is the result.
This will awaken you, may keep you up all night and you may even be angry with what I'm about to share with you…
A couple of prerequisites before we get started.
You have to actually want to make at least $10,000 a month. Right now, I can barely eat with $10,000 a month, and my business does in excess of $620,000 per month. If you don't have a strong motivational force to make this kind of money; you won't. You need to decide exactly what you want, and what it means to you.
You have to be willing to do whatever it takes. You need to take-action today. I don't care who you are, what your B.S. circumstances are, if you are willing to do whatever it takes; you can easily follow this system and pull in over $10,000 per month. It's simple, yet, not easy and when you hit some roadblocks along the way; you better be willing to persevere.
Step 1: Find An Offer To Market And Calculate Your Metrics
You're in the business of marketing.
You need an offer, a product you can sell. An offer solves a problem in the marketplace.
Just like when you go out to eat at a restaurant, you have a hunger problem.
There's an abundance of products you can promote as an affiliate. You can head on over to Clickbank.com and browse from tens of thousands of digital products in a wide range of niches.
For the sake of this post, we're going to stick with the Internet Marketing niche.
You can promote a simple $97 eBook or video course, and even make for example $75 per sale you generate. But at that rate, you'll need to generate 133 sales per month to hit your goal of $10,000.
The secret is you need a low ticket product to sell on the front-end, as well as higher ticket products to sell on the back-end.
You could create these yourself, or you could find a company like MOBE that allow you to earn commissions selling their products.
The fastest way to make $10,000 per month is to earn one $10,000 commission per month. It's easier and faster than making one hundred $100 sales. We're in a time where it's the hardest to make the first sale, but the easiest to make the second, third and fourth.
Which is why it's more effective selling something low ticket ($20-$50) upfront. Once your customers buy a low ticket front-end product from you, it's A LOT easier to sell them your higher ticket products.
In my business, my average customer is easily worth over $1,500.
These customers don't come in and immediately buy a $1,500 product (although some do).
They come in and buy something for $7-$49 and are UPSOLD other products that go up to $25,000 and beyond.
So when I divide the total sales by the number of customers, I average about $1,500 per sale. That's less than 10 sales per month to make $10,000.
To create the kind of product suite where you have a whole range of low and high ticket offers, it's going to take you months or years.
That's why I recommend you get started with something like MOBE, which gives you affiliate access to an entire suite of products that pay you thousands of dollars per sale.
It's a shortcut.
Once you have your offers, you can kind of aim for an average customer value.
If I generate over $1,500 per customer (and my business is really not that optimized yet), you can easily earn $500 per customer.
At $500/customer, you only need 20 customers per month to make that elusive $10,000.
Step 2: Build A Marketing Funnel
A couple of hours ago I sent out an email to my list, talking about the real reason people fail to make money online; and the simple 3 step formula that is guaranteed to work.
It went something like this:
Find an offer that people want.
Get high converting traffic.
Build a high converting sales funnel.
Fact is, everyone knows it's easy to find an offer. It's also extremely easy to generate traffic. There are no real traffic secrets.
You pick a strategy, and go for it.
A sales funnel however, is a totally different story.
It's also the least talked about thing in the industry.
So I'm going to let you in on a little secret.
Sending traffic directly to an affiliate link will never make you rich! It might make you a few sales, but if you want to consistently generate over $10,000 a month – you need your own custom sales funnel.
You can take the video sales page (your affiliate link) from the offers you are promoting, and build your marketing around that.
If I was starting from scratch, I would create something super simple and run with it.
My own high converting branded Squeeze page.
My own high converting presell page.
My own sales page.
My own compelling email follow-up sequence (at least 30 emails).
A phone call application process.
The funnel looks like this: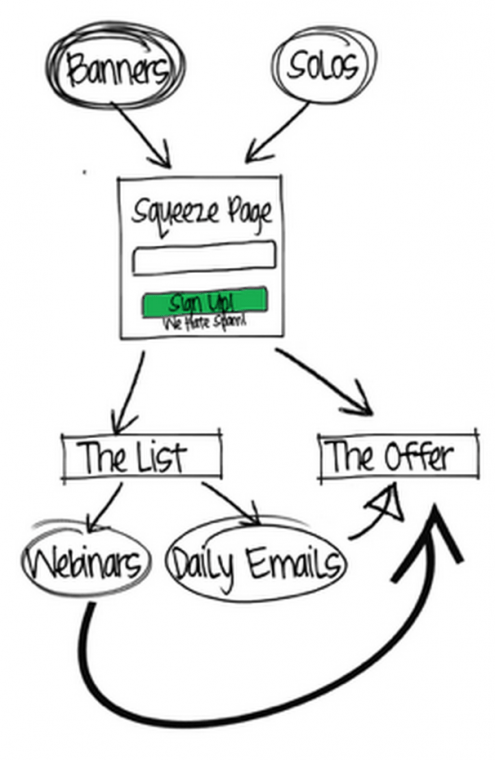 Now this may sound like a lot, but you can get all of it done in a couple of days if you're experienced or a couple of weeks if you're a beginner.
Once the sales funnel is setup though, the fun begins.
First, you'll need your own high converting Squeeze page to capture emails and send your subscribers to your presell page.
Simple enough to setup in something like Clickfunnels or OptimizePress (my team do this for me).
After the opt-in, most people send their subscribers straight to their affiliate link.
This is where they go wrong.
When you are targeting the same people as others, with the same offer you need something to differentiate yourself, and pre-frame your offer.
Pre-framing or pre-selling is the art of getting people to want to buy something, before it's actually presented to them.
Like showing people how to create their own product to sell online, and offering them affiliate rights to products already created.
It's making people want your offer by telling them a story or teaching something, and then positioning the offer as the solution that will help your audience get their desired result faster, easier and more efficiently.
If you were selling a traffic generation tool that automatically uploaded videos to Youtube and optimized them to rank on Google…
Your Squeeze page would say 'FREE training reveals how to get unlimited traffic from Youtube' and your presell page would have a video or letter teaching people how to create the videos and upload them to Youtube MANUALLY.
Then offer the tool as the way to do is faster, easier and automatically.
Preselling, it's the secret science of increasing conversions through content.
In the home business industry, there are a couple of ways to apply this.
You could simply tell a story and send people to your offer.
"My name is Shaqir Hussyin, I struggled for a really long time and had a really lousy experience trying to make money online, then I came across a system that's working for people just like you all around the world, go ahead and click the button below to watch the video and get started".
Very simple, but compelling.
Here's the thing about the home business industry. Nobody really cares about the company or the offer, they buy the lifestyle. They buy the dream, and most importantly; YOU.
That's why you sell yourself first through a simple story (video or letter) and then send people to your affiliate link.
2) Create a training pre-frame.
FREE Training Reveals How Ordinary People Are Making Extraordinary Money Online
"Hey my name is Shaqir Hussyin, and for the past few years I've been making money online, and helping others do the same. I've generated up to $X per day, and am now living a life of adventure and luxury. But it wasn't always like this, I struggled, struggled some more and then one late night something magical/weird happened and I stumbled upon the formula/system. Here's how it works. Step 1: find a product. Step 2: build a marketing system. Step 3: get leads. Do all of these in the right order and you make sales, show proof of it working, social proof, the big problem; you have to learn how to do all this cool, but complicated stuff, and it can also cost a bunch of month. That's why I partnered with this system to solve everything, and give you a product and a marketing system so you can skip all the hard work. Get started right now and I'll even give you a special bonus, my traffic generation secrets. Only 20 spots available, it's guaranteed to work or I send you $500 just for trying. Click the button below and watch the video to get started"
See how that works?
A little bit more complex and harder to pull off, but do it right and you're going to have a high converting presell video or letter that increases your conversions and makes you lots of sales.
After the presell page, you send people to the offer like your affiliate link.
By leading with value upfront; you build rapport, create trust and get lots of brand new subscribers buying instantly.
It's just ONE page you are putting between your Squeeze page and your offer page.
Next, your email follow-ups.
To get started, you want to keep it simple and functional.
30 email follow-ups that go out every single day, so you'll have a 30 day campaign.
Your follow up sequence should be designed to build rapport and truth with subscribers, and sell them your front-end offer.
There's a lot of talk about the best type of email sequence to use, but a simple value based soap opera sequence works best.
A series of story based, personality driven emails.
Your emails need to sell you, and be full of stories and educational content around your industry.
The easiest way to create follow up emails is to use the strickman approach:

Draw this image, and write down the main obstacles your audience face on their journey towards their 'desired result'.
Do this, and craft all of your emails around the different obstacles, interweaving their solutions with cool and hilarious stories.
Help your subscribers overcome obstacles, and move towards their desired result by giving them free content, and position your product or offer as the best/fastest solution for them to get there.
If you get just 10% of this right, you'll easily pass $10,000 per month.
The secret to selling to your subscribers is simply in giving value upfront, and acting as your their 'trusted advisor'.
When you're giving value and helping people get what they want; they feel compelled to give you money.
Even if you're horrible at marketing. When you show people how to get what they want, and offer them easy solutions to get what they want faster or easier; they'll buy them.
The last step…
If I wanted to make a lot of money quickly; I would offer people the chance to get on the phone with me.
Talking to people is the easiest way to close sales. No way around it. If you want to sit on the beach and make 'coconut' money and watch the waves come in as the commissions come into your account… you need to get very good at marketing.
You have to work your ass off to be lazy in this industry.
It's just the way it is.
If I was starting over again, I would create a simple page that offered people the chance to get on the phone with me, like this:
http://shaqir-hussyin.com/letter/
You can create a page for this or just use a free form builder like Wufoo.com to have your subscribers apply to speak to you. You could call it a free coaching session or an application to join your inner circle.
Whatever floats your boat.
As long as you create the idea that when people get on the phone with you they'll create the results that they want; people will fill out your form. This is what I did in the beginning, and it worked. Very, very well.
That's the system. A squeeze page that sends leads to a free training/presell and sells my offer. A simple email sequence that helps my subscribers get what they want, while offering them my products as solutions.
Finally a page that offers people the chance to talk to me or apply to work with me, that in my email follow up sequence.
To increase conversions further, the next step would be a webinar. But we're only talking about making $10,000 a month
Step 3: Find a way to get 10-30 leads/day consistently.
Step three is like the grind.
I don't care how much your marketing sucks, because if you're consistently getting 10-30 leads a day you will make some sales and be able to hit $10k per month.
There are a lot of ways to create this kind of lead flow. If your Squeeze page converts 50% of visitors into sales; you have to generate just 20-60 visitors a day.
You could buy this traffic, or you could start blogging and doing SEO for free.
If you want high converting traffic, you'll need to spend $1 to $2 per click.
You can get this traffic on Facebook, Bing, Adwords, Youtube PPC, or the easy option: with solo ads.
This is where you would have an instant cost of at least $20 to $60 per day. If you want to do this properly, you need to put in the money. Don't have it? Get a job.
Otherwise you're looking at living in your parent's basement blogging for 18 hours a day until the Google gods decide to send you some free traffic.
In order for the paid traffic to function in your business, you have to create more commissions than you're spending in traffic.
If you're spending $50 a day on traffic and making $60 back – you could scale up the traffic and hit $10,000 a month profit pretty fast.
If you can get 30 leads a day, you can generate $10,000 a month like this.
Average customer value is $500.
20 sales per month needed.
30 days x 30 leads/day = 900 leads a month.
That means you need 1 in 45 leads to buy your offer to make that cool $10,000.
Not that difficult, not that difficult at all.
Step 4: Make 1-2 sales per day.
If you're consistent with getting 30 leads a day, it's only a matter of tweaking your sales funnel until you are hitting your sales goals.
There are three ways to do this:
Tweak your Squeeze page, your presell page and your sales page.
Tweak your follow-up email.
Tweak your traffic source.
That's it! Keep doing those three things, and you're guaranteed to start making sales. If you're promoting MOBE (you can join me here), you're virtually guaranteed to pass your $10,000 per month goal like this.
Even at 10 leads a day, if you offer people the chance to get on the phone with you; you can hit $10k/month.
Or you could do it 'the automated way'. What gets you all excited in the beginning.
"I'm going to make automated commissions every day, while I drink from a coconut on the beach"
The automated way requires time and energy on the 3 things mentioned above.
If you want to hit $10,000 per month FAST, get on the phone.
Next you can start doing stuff like webinars, Google hangouts, running special promotions to your email list to get them to buy. You can run new offers and a lot more.
To get more sales from your list, you need to start emailing them daily.
Broadcasts.
Write blog posts, create videos, any kind of training 'sells well' to your email list.
Stories work too.
Step 5: Upsell Customers
This step is childs play.
Upsell customers.
When you're getting 1-2 front-end sales a day, you're probably only going to make a couple hundred bucks or less in sales.
To hit the $500 a customer and beyond; you need to upsell.
Get on the phone with your customers, and offer them your higher priced products and services.
If you're in MOBE, you'll have your own phone sales team to do this for you.
Not everyone is going to buy your upsells, but a large portion of them will.
Increasing customer value is the fastest way to 10x your income.
Step 6: 10x everything, or go live on the beach.
By this point if you do everything above, you're pretty much guaranteed to make $10,000 per month.
I can't guarantee it, because I can't guarantee you will set things up right.
But if you are willing to do whatever it takes, you will get it done and you will create the results you want.
So the only logical next step is to blow up everything, or go LIVE.
While the notion of drinking cocktails on the beach is cool, the practice itself gets boring, FAST.
But hey, not everyone is a high performance individual driven by hitting goals and moving up milestones.
If you want to refresh your inbox on the beach in Thailand, or live the high life in your home town or just provide and spend time with your family; that's cool.
If you want to make millions, here's what to do:
Decrease your cost per lead.
Increase your conversion rate.
Increase your customer value.
That's it, if you triple those three points you will grow your business 10x.
Literally taking a business that does $33,000 a year to over $1 million dollars.
I calculated it, true story.
That's what I would do, if I had to start over.
Now you have the plan, and there's no reason you can't create the exact same outcomes.
If you're not creating the results you want, you have one of these problems:
You haven't created enough traffic (in which case you need to blog more or do whatever else – there's an abundance of traffic training out there).
You're not converting enough leads into sales (in which case you gotta improve your marketing ability or sales ability by getting people on the phone).
You're not upselling (in which case you just gotta start, and keep practising).
You're simply tech or marketing challenged.
The final part.
Now look, I get it.
This sounds exciting, perhaps a bit overwhelming.
Maybe you feel like I gave you the key to pandoras box and a world of riches and pleasure awaits you after you implement this.
All of the above is probably true on some level, but hold your horses.
There is a reason why smart, motivated people fail at this stuff.
It's because you are still left to:
Create the right kind of pages and high converting design.
Write highly compelling, emotional, cash sucking sales copy.
Create email copy that makes people buy.
Setup all the tech stuff.
Find the right traffic sources, and know how to 'use your system'.
And that's just off the top of my head.
So after making over $10 million dollars online, I've decided to give back.
To help you get the basic setup.
To give you a high converting sales funnel, done for you.
To give you the high converting email follow ups, done for you.
To send you the best traffic, and guarantee your subscribers!
I call it, Project Guaranteed Subscribers.
Click here for the full scoop.
For only 20 people, I am going to build them a basic sales funnel, give them their own custom high converting follow-up emails and guarantee them a list of up to 10,000 subscribers.
Why 10,000?
When you have 10,000 subscribers, you can become financially free.
They say you can earn on average $1 per month per subscriber on your list. Me personally, I make between $4 and $6.
So 10,000 subscribers = at least $10,000 per month in sales from your sales funnel.
I promised I'd show you how to make at least $10,000 a month from scratch, and I did.
Build your sales funnel, and you can profitably build your list.
Build your list, and you are guaranteed to make money.
By now you know what you have to do to create the kind of results you want.
If you want my help, to do all of this with you – click here and sign up for Project Guaranteed Subscribers.