Tune Into This Content-Rich Webinar With Your Hosts Adeline Sugianto & Shaqir Hussyin As They Unveil...
"The Surprisingly Simple 5-Step System I Use To Make Up To $150,000/Month In Cold Hard Commissions With MOBE"
Here's What Industry Experts Have To Say
About Shaqir Hussyin:
...And What Industry Experts Say About Adeline Sugianto:
Now That I've Got Your Pretty Attention...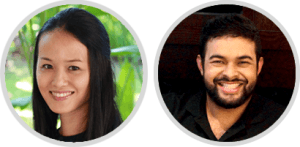 From the desks of Adeline Sugianto & Shaqir Hussyin

Re: Your Unfair Advantage

Dear MOBE Member;
If you're sick and tired of competing with every other MOBE member for leads and sales, I want to change the playing field in YOUR favor, and hand you the keys to an incredibly simple, yet vastly powerful system that virtually guarantees success.
And this is how I'm going to do it.
From Adversity To Abundance - Adeline's Story....
Picture it: Just a few short years ago, Adeline found herself on the outside of the only professional world she knew - laid off from a corporate job.
At first it seemed hopeless, if you've looked for work in the corporate world recently, you'll know how ultra-competitive it is. This was one of the main reasons why she started searching online, she knew there had to be a better way.
Ironically, it was through one of the very methods we're discussing today that she found me - a solo ad.
Then, like all successful online marketers, Adeline got to work and followed the system. She worked hard and found herself making seriously good money. In fact she did 6 figures in her first year - that I know for a fact. And over the last 18 months I know she did over $200,000 online...more proof that the system works.
What Made The Difference?
Why was Adeline so successful online rather than in the corporate world? How did she join the top 1% of income earners in the world in her first year online, when so many others fail?
Her secret is: My 5-Step Conversion Dynamite system.
It's the short cut you need to make tons of money on the internet. It's how you are going to short-cut the learning curve I went through, without having to spend years studying experts, or investing $250,000 in your education, as I did.
Now You Can Follow Adeline And Myself As We Dissect My 5 Step Conversion Dynamite System For Making Tens Of Thousands, Even Hundreds Of Thousands Of Dollars A Month Online.
And the system is what it's all about.
Adeline and I are just two ordinary people. No smarter than you or anyone else. We don't have any magical powers, or friends with huge email lists that we can promote to.
It's not luck, it's simply a system I follow that has made me wealthy at well under the age of 30. It's a short-cut to success.
After a while I decided to quietly teach this new strategy to some of my students.
The results were nothing short of astounding. The people I shared this secret with did just as well as I did, which proved to me anyone can do this, once they understand.
I've attached a few comments I've received from them...
When You Act Now, Adeline And I Are Willing To Share This Critical Short-Cut With You Today
I'm going to hand you a 'fill-in-the-blanks' 5-Step Conversion Dynamite system...done for you.
Your 5 step conversion system will be YOUR Unfair Advantage to position you as an expert and top earner like us.
Here's what the first 10 people who respond will get:
Done-For-You lead generation magnet branded by me and you. Value: $1,997
Ultimate fill-in-the-blanks 6 figure kickstarter webinar template. Value: $1,997
In-person 2-hour $100,000 per month mastermind - with access to ME. Value: $4,997
30 pre-written follow-up emails PLUS 11 bonus cash flow kickstarter.Value: $4,997
$10K in 10 days - Physical product with secret templates and action guides. Value: $1,997
2 tickets to my 3-day Traffic Millionaires Summit 3.0. Value: $1,997
That's a huge total of $18,982 in value. However, I want to ask you a question.
If I gave you all of those items, what would one profitable funnel be worth to you?
Could you give up your day job? Could you send more time with your family and friends? Could you build up an email list in the tens of thousands?
Could you become a top earner like Adeline or myself?
This is why people fly across the world and pay me $25,000 for a 1-2 day program.
But wait, there's more. I have some great free bonuses to make this a complete package:
Bonus 1: My Instant Traffic Rolodex - these secret traffic sources will help you bank your first $250,000. Value: $1,997
Bonus 2: 2-hour Live Training and 12-month FaceBook Mastermind Coaching Group. Value $997
However - Membership Is Strictly By Application Only
In order to get the entire Conversion Dynamite system, you must be one of the first 10 people to respond right now. Once your application is submitted, I'll personally review it and contact you asap.
When you want to finally start making the kind of money we've spoken about here, simply click the button below to apply. It'll only take a minute, and you'll be glad you did.
Warm regards,
Shaqir Hussyin
P.S. If you've ever wanted to make serious money online, but don't know where to start, the 5-Step Conversion Dynamite system is for you.
But you can't afford to hesitate, please click on the button below while it's fresh in your mind...