Calling The Ultimate Personal Badass
Executive Of A Lifetime!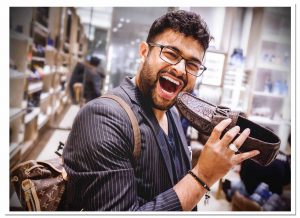 From the desk of Shaqir Hussyin
Re: Ultimate Lifetime Personal Executive
I'll try to make this short, actually I won't cos this is something that takes time. So no time wasters. Cos I am short on time. I am extremely disorganized. I am an impatient person. I like things NOW, fast, Asap, Urgently, Get it done. I can be a poor communicator at times. I live in my own bubble. What I do is think of every weakness I have and or have been accused of having by previous Executive Assistants and by my ex-girlfriends. Hmmmm...
However I have charm, confidence and charisma so I get away with most things. Just like asking for a super-duper DEMANDING ROLE here...
If you've been referred to, often you think your middle name in your life is: amazing, rockstar, badass, awesome, or the GTD (get things done) person - then this maybe something you'll qualify for....

Ultimate Lifestyle Business & Personal Executive Assistant To CEO, Shaqir Hussyin
Michael Hyatt has 2 amazing execs and had one of them write out 10 characteristics. If you read these 10 and you think to yourself - HECK YEAH THAT'S ME! Then read the rest that I wrote out for you.
They have a servant's heart. This is the foundation for everything else. A rockstar executive assistant wants to serve—and not just your company or organization. A rockstar EA wants to serve you. Whether the task is big or little, he achieves his goals by helping you achieve yours. If potential EA's don't have this quality, no problem. But they probably should look for a different opportunity.
They have personalized expertise. A rockstar EA is like a second brain. She knows what you like and don't like. She knows where you are and where you need to go. She knows when to schedule meetings and when not to. A rockstar EA will gather as much of this information as possible as early as possible—and proactively keep learning.
They master the calendar. In business we live and die by the calendar. Deadlines, appointments, meetings, presentations, calls—the calendar is the flight plan that keeps all of these moving parts from crashing into each other. And don't forget scheduled commitments at home. If your EA doesn't have mastery of the calendar, we're not talking about a rockstar EA.
They anticipate needs. A rockstar EA sees in advance what an executive needs and plans accordingly. If it's lunch before a meeting, reports emailed to a client, whatever, she's already seen the need and addressed it. Anyone can take a direction. But a rockstar is already moving the way you want to go.
They prioritize the personal. When I said an air-traffic controller for your whole life, this is what I meant. If your EA defaults to prioritizing the professional at the expense of the personal, he's not a rockstar—at least not yet. Protecting my personal time lets me maximize my professional time. A rockstar EA knows that and helps me guard that time.
They are willing to push back. A good EA will keep you from burying yourself. I call Suzie my "calendar czar," and that's exactly what I need. At any given moment I don't know the full range of our commitments, obligations, and initiatives. Because it's her job—and she's a rockstar—Suzie does know and will push back when I start getting overcommitted.
They create and master systems. Whatever line of work you're in, effective performance depends on a certain number of set preferences and procedures. What works best for you and your team? A rockstar EA will document and systematize these things so you're not always reinventing the wheel.
They know what's on your plate. We all have too much on our plates. Your EA should know all that you're dealing with and what's critical to your success. If he knows that, he can keep you focused on the high-leverage activities and decline or delegate the rest.
They respect your confidentiality. A rockstar EA will have all sorts of personal information and access. It's critical she has integrity and a sense of discretion. It's also important she sees when people are trying to get insider access or influence.
They have great communication skills. And by this I don't just mean he can carry on a conversation. A rockstar EA will help facilitate communication in your organization—especially if you're bottlenecking things. Whether it's email, calls, or other communication, a rockstar EA will accelerate response times and keep the messages moving.
Few people are more responsible for your success than your Executive To CEO assistant.
If You Are Like, I Got THIS! Then Read Below & Apply TODAY:
This is the most personal, intimate and highly-regarded role for the right person. 1/10,000 people "May" qualify for this.
STRAIGHT-TALK ALERT: This is the one job role that I've declined more applicants of than anyone else. This is the job role that I personally vet each candidate too.
I've known this little secret for a long time. I've had people in my life that have played some of these 'roles', most have disappointed, failed and quit. The few that are still with me know they've grown further in life than anyone or anything else has ever pushed them.
Each day is a day outside their comfort-zones. Each day is a day that is challenging, unique and comes with rewards. This is one of the most hardest, yet rewarding roles you can ever play in life, and in my life 😉. For the first 30-90-120 days - You will be required to live on the road 70% of the time. Travelling. Living out of Hotels, Air-Bnb's & Couches. Lol. Not couches, that was a joke. Lol. But if you had to - your ok with sleeping on the couch.
This role is a minimum 12 month dealio, ideally after you "graduate" 1-2 years either we start a business together or you stay in this specific role for LOOONG LIFETIME!
My mentors, friends and most successful people in my life 90% of them have a "loyal" long term side-kick, exec, badass helper. Richard Branson, Joe Polish - everyone I know has this special little person in their life. I've got a couple already, but I'm a man that wants to change the world, profit wildly and make his dent to create maximum impact.
This is why I've opened up 1 more spot for someone to come into my personal & business life….
This unique role is one to further enhance the CEO's capability to expand, develop and manage the business efficiently and effectively.
The CEO's EXEC from the onset must gain extensive knowledge of the company, the CEO, other key persons and all CTG's facets (both internal, external and inter-company) and have a fundamental understanding of the company's aims and objectives.
Complete discretion and confidentiality must be maintained at all times by the EXEC and an understanding that this role emulates who and what the CEO is and how she is perceived within and without the group of companies.
The CEO's EXEC may at times be required to act on behalf of the CEO (frequently being the first point of contact with clients, internal staff and other business contacts). The CEO's EXEC will be privy and have access to all the company's confidential matters such as company set up, shareholding, staff/management compensation packages and disciplinary items, legal & financial affairs, mergers, acquisitions and many other matters.
PERSONAL ACTIVITIES - Go Above and Beyond
Work with CEO, Shaqir Hussyin + Lisa - the Operations Officer of the business to make sure that you and her are on the same level. Supporting her and myself full time to get the job done. Whatever the job is required.
This is a 7 day, non stop role, some days you will be required to be up for 20 hours to get things done and achieve fast-results. This role is obviously something of the most important and intimate of Shaqir Hussyin's life, so trust, honesty and loyalty is the top 3 qualities that's needed for peace of mind.
This role requires the personality of a soldier, someone who is willing to just do whatever it takes, work the hours 18-20 hours or more when required. Not everyday but sometimes days-on-days especially at my LIVE events. You must be healthy, organised, disciplined and very focused with a strong desire to get to the end goal. You must be results driven. Finish the task regardless of feelings, excuses and obstacles. MUST-Have a solid-high level of pain threshold.
Our culture is growth-driven, results focused, fun, vibrant, and team-oriented. Your roles, our roles aren't structured and stiff like boring corporate companies — we get to pursue things we're passionate about. You'll have that chance too. You will develop and 'work-your-way' earn yourself to have a lot of authority here. It's about having the leeway to try new exciting things.
Radically Passionate : Small To Medium Level - $100-$1,000 an Hour Leveraged Personal Activities & Attitudes For Shaqir
Organising and protecting Shaqir's Time - acting as a filter for all communication. Protect from Reactive, Low Leverage Activities of - following up, getting things completed.
Be focused on creating a supportive environment so I can be in my Genius Zone and let myself focus on $1,000, $10,000 and $100,000 per hour tasks. Have no ego for the task at hand, but only driven by the END result. Have little or no attitude towards work, myself and anything that's required. I dislike people with attitude - useless emotion that doesn't always serve the bigger purpose. Trust, but never trust anyone fully. Everyone - has the devil inside them.
Speed. Urgency. Fast. Now. <— my favourite 4 words and you need to live, breath and sleep (or not sleep) with these. Be my eyes and ears for everything and everyone when Im on the move and not, sometimes I'm in the company grinding it out, other times I'm jumping out of planes and want to be just left alone. The introvert in me - just shuts everyone out every now and again. You need to be okay with just knowing when.
Be detached from the entire team, activities but have deep care, compassion and concern for myself - so that my weaknesses are always covered.
Be focused on Growth- challenging each other and having a positive mental attitude during NEGATIVE and down-times. Always. Be able to jump back up at any bad decision, bad experience and move on with forgiveness and focus. Always asking how can we make the future bigger and brighter than all the past.
Be fun, friendly and positive - all the time - I get it, it's not always possible - we all have work, demons and shit to deal with - aim still to be Fun, Friendly & Positive Focused - 95% of the time at all. Be proactive instead of reactive during all issues that are thrown at you.
Be able to handle multiple projects, lead multiples teams with multiple deadlines, managing my diary, schedule and productivity. Be open to learning, studying, researching - being a secret geek like me.
Be open for learning about things that I can't always make time for - more than just 'management', personal stuff. (banking, taxes) Be able to followup to get things done to completion with myself and with others.
Be able to report daily and be open on feedback for me, handling tough. Realising how Shaqir works - what ticks him off, what gives him peace of mind and overseeing this to prevent.
Manage emails, diary, communication, negotiations. Research, analyse trends, market data, current finances. Lead, manage projects, people, to-do, deadlines and goals. Keep accountability and self-progression to the highest level. Map out, brain dump, plan and strategise growth plans all the way from Idea To Execution.
Having high energy and humour to make sure each day is filled with Fun. This is one of my core values. And I get turned off if I don't have fun or don't have my own way.
Help Shaqir - get productive - hourly accountability - of 12+ hours per day - ruthless execution and efficiency of everything
Help Shaqir - get focused on Health - 45 mins per day - max - and get disciplined on following a program (p90x / intensity )
Help Shaqir - be focused, positive and proactive state so less or no drama. Help Shaqir be a filter for all things with little judgement but focused on ONLY GROWTH.
Help Shaqir - with travelling, packing, organising and efficiency - find Travel Hacks consistently to optimise Travel.
Life-Organiser - trips, events, schedules, vacations, backpack millionaire tour Events Attendance - attending events when Shaqir is not available or attend events with Shaqir to maximise growth, results and opportunities.
Events Planner - Help with events "Dates" planning, and overseeing Sales Stats w/ Shaqir - working with Lisa on this. Travel Agent Booking - Saving costs, upgrading flights, utilising points. Managing and overseeing Team Travel Helping, advising and hiring A-Players but also letting go of low end players.
Researching, finding locations for Fun for Shaqir, every country - restaurants, experiences, even if theres 2 hours free time, Shaqir needs to have fun, experience life FULLY.
Personal Time Saver - time is important, Everyday of myself should be managed.
Concierge Lifestyle Assistant - Help, support, provide Shaqir with whatever he needs, whenever he wants. Peace of mind, pleasure, personal and business. Find a way for EVERYTHING.
Responsive, Alert & Responsible : Medium Level - $1,000 an Hour Leveraged Personal Activities For Shaqir
Get on meetings, take notes, summarise with action steps - share with the right team members.
Utilise TeamWork / Trello to manage personal and business tasks, projects and making sure each project - is getting done on team.
Record Videos, manage the video editing, uploading and distribution from the team.
Be able to travel, live with Shaqir to maximise productivity and results.
Be open to learning camera work, drone, recording etc.
Network, Research - clients - potential partners, speakers and investment opportunities.
Help launch the Backpack Millionaire brand - focused study need to go into studying top 10 other brands to execute with Shaqir
Help with the newest projects, Commerce, Software, Health Product - whatever the next project is.
Studying and sharing synopsis from courses, mentors to Shaqir to implement and then for his team to implement.
Health is Wealth. Shaqir needs to be reminded of this always.
Growth Geek : Investing / Higher Leverage Personal Activities - $10,000 Per Hour For Shaqir
Being able to help with Merchant Accounts. Being a signatory on banks to help set up merchant accounts.
Helping set up brand plans - company setup, company structure with the right teams, engineers, design, programmers
HELP with US - Visa Issues if needed w/ Lisa.
Being able to read basic finance docs, study finances and review stats, trends and data.
Working with my team to come up with ideas on increasing sales - Lisa / Sino
Be able to research investments, meet and connect with investors, inventors, product owners that Shaqir can actively invest in.
Finding coaches, mentors and teachers Shaqir to go learn from.
Recruiting, Retention and Rewards: helping Shaqir - hire & fire.
Helping expanding into new markets with new marketing & sales systems.
Connect with top influencers, helping Shaqir get publicity on major networks and brands like Forbes, Business Insider. (then start a business around this)
Coming up with ideas on to execute from an Investor perspective.
Manage personal investments, into people, products and companies that I invest in.
Oversee personal investments, rate of return, structures and protection.
Learning about asset protection, multiple banking, offshore and implementing strategies.
Having Fun. Life is adventurous every single day. This is already in place but needs to be maintained with new experiences.
Research, review Charity Work - for each month - for Personal Shaqir + Business Charity Stuff - so to build goodwill and marketing assets.
Help, commit fully with radical honesty to build shaqir's empire to take over the world, spread the message of Empowerment & Freedom and focus on maximising profits.
Perks Of The JOB Or Let's Call It "Perks Of A New, Upgraded Lifestyle":
You get to learn, travel and live with the youngest and highest paid Top Earner in the Home Business Industry.
You get to lead, manage and work with a fast-dynamic growth driven team.
You get to travel all over the world and let's just say FUN is a CORE activity of mine.
You get to experience what it feels like for a company doing 8 figures to go on to 9 figures then to a BILLION DOLLARS.
You get to leverage and learn from Shaqir Hussyin - directly - Invested $350k into his Education & Growth Opportunities.
You'll get access to this. - You get to give back, contribute to the world more than you could do by yourself
Charity Work, Impact & Transformational work for 'the needy' is something Shaqir has a strong heart and focus for (privately) but in 2017 - it will be alot more public. This is "more" than just making money for the CEO.
NOT FOR EVERYONE TO APPLY:
This job role is not for you to have fun and get paid doing nothing or little work. I am a very agressive go-getter in business, life and have a knack for getting anyting I want. I live in my own bubble and I don't apologise for it or try to fit in with others. I have a crazy rollercoaster personality that helps me and my Genius to create and provide value to the world. If you are looking for something challenging at a core level that will keep you up late nights, early mornings filled with challenges - then this maybe for you.
I will require in depth personality assessments - a 30 day trial that will lead into the company standard 30-90 day trial and if after 1-2-4 months. You qualify. This will be a long term thing.
This is NOT for everyone. It's a rare role, requires a rare type of character someone with an personality (so we get along) and someone with a high-level of IQ (so we get along) and we get exponential results.
Stay Single & FOCUSED, don't have commitments, kids, draining energy (or you can manage your kids and me, sometimes I'm a big kid), remove all emotional baggage that drains you. (for the first 3 months of this role at least, you need to have these commitments!)
Get focused on results, expanding your mind 10x with a strong focus to implement and execute ruthlessly.
Impact. Profits. Two core things. Consistent focus on improving the bottom line net.
Loyalty, Trust, Radical Honesty, Fun, Freedom, Rule-Breaking, Hard Work & Results.
Wealth Academy, Shaqir Hussyin Brands - is more than a marketing, sales, education and training company. We're making an impact and changing the world, one person at a time. We aren't perfect, we have a long way to go, but we're getting there. We're building a global brand to help entrepreneurs change the world. We're always improving, always testing, tweaking and tracking always changing and there's never a dull moment.
That's for sure, there's never a dull or boring moment in life of Shaqir Hussyin. If you're smart, love startups, love the hustle, challenges and want to be your best-self, want to contribute to the world, tap into your own potential and live life on your own rules, whilst making a difference, and YOU embody our core values, we want to talk with you.
Let's change the world.
How To Apply For This Position
Now for my favorite part - I get to watch you on video while you sell me on hiring you. Not so much fun for you, but let's get started anyway,
First you need to make me a video. If you don't have a camera or webcam, just use a phone, I'm not expecting a Hollywood blockbuster here. In the video, tell me these four things:
How and why you're going to kick absolute BUTT in this role
What kind of experience you have to back up point #1
How much you want to get paid to live the international lifestyle with me
When can you start?
Please keep it under 5 minutes. (Remember: I have to take time out to watch these...) Upload it to YouTube.com and copy and paste the link into the application form.
To  Apply Fill Out The Form Below