Exciting New Opportunity:
An exciting and very different opportunity has become available for a high-performing Virtual CFO for one of the most respected, fastest growing Internet Marketing Education & Training companies in the Industry.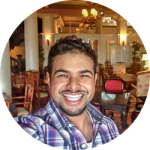 My name is Shaqir Hussyin, and I run a number of extremely successful and busy online businesses, serving entrepreneurs and business owners across the globe. In fact they're kind of like ongoing startups, so any related experience with startups will help your application greatly.
I've been scaling up my operations for some time - and now I require the services of a high performing CFO to take us to the next level, and oversee the financial and accounting operations of my business units.
Basically, you will be looking after the financial well-being of a number of fast-growing online companies, and planning for a truly massive future.
Duties include:
Develop and oversee strategies to achieve my organisations' missions & execute plans.
Evaluate market trends, establish tests and measurements of key performance indicators and objectives.
Analyse organisational operations and find opportunities for revenue gains, cost reduction and overall improvements.
Measure and analyse financial results over the short and long term, and take corrective actions to improve results against KPIs.
Report on financial status of all companies, develop forecasts, analyze variances, and create and implement plans for improvement.
Stay up to date by remaining aware of new regulations, legal and taxation requirements, and continually study financial and management for constant improvement.
Create systems and procedures to optimise current accounting, book-keeping systems.
Deal, handle and contact merchant account companies.
Please note: We sell a number of packages, systems and services at prices ranging up to USD$250,000 - and many of our clients are high-end entrepreneurs who demand great service and results.
Over the last few years I have personally built these businesses from the ground up as a one man operation. Recently I have hired a number of staff to help manage different parts of my businesses as they grow, and you will be in charge of all financial aspects of these staff and businesses, helping me to scale them up quickly and profitably.
As an ideal candidate you will have skills and qualifications such as:
Financial planning and strategy
Managing profitability
Strategic planning
Quality Management
Promoting process improvement
Forecasting
Corporate Finance
Developing budgets
If you fit the above skills and experience requirements, please forward your application to me now using the form below. I am interviewing and hiring on a first come, first served basis and once I have filled this position, I'll take this ad down.
Compensation and Getting Paid:
This will greatly depend on your experience in running this kind of fast-growing organisation, and the way you approach the role. The successful candidate will receive a sizeable monthly salary in keeping with the duties required of this role. And there are two other areas for high potential earnings:
You will receive a performance based bonus for every successful project. For example, a product launch in any particular month could result in a revenue boost of possibly a hundred thousand dollars or more, and you will receive a percentage of this revenue.

I am also a giver - I give away cash and prizes to my staff for excellent performance - and I expect to give away plenty to a successful CFO. These are often unexpected and unannounced.
The actual salary is available upon application and depends mostly on your level of experience, but with bonuses you would expect to earn a good six figure salary as a minimum.
Please submit your application now and I'll arrange a personal interview with you shortly.
One final note about this role:
I am an ambitious, fast-moving entrepreneur who doesn't suffer fools and who needs my CFO to work in a similar manner. I am high energy, I fire out new ideas all the time and I need them implemented with great speed, and attention to detail.
So if you work slowly and methodically, if you need to think about every little thing before taking action, this position may not be a good fit for you.
However...if you would like to be swept up in a fast-moving, money-making machine which has the potential to positively affect hundreds of thousands of lives (and millions in the future), and if you can stay on the ball and get things rolling quickly and effectively, you and I are going to work well together.
To  Apply Fill Out The Form Below